Geplaatst op 8 January 2017 door Giel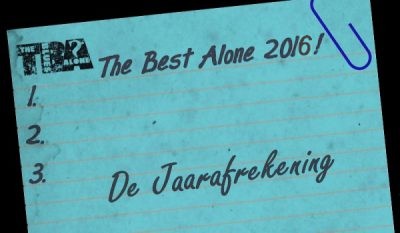 Bij The Blues Alone? worden jaarlijks 'The Best Of' lijstjes van medewerkers gepubliceerd. TBA? is niet van opsmuk en dus was de vraag identiek aan die van vorige jaren: wat waren volgens de team-leden de 3 beste concerten in 2016 en welke albums selecteerden zij als de drie beste CD's uitgebracht in 2016?
THE BEST CONCERTS 2016 according to Giel
[reviewer/interviewer]
01. Bruce Springsteen & The E Street Band - Malieveld Den Haag 14 juni 2016 [full concert]
02. Neil Young & Promise of the Real - ZiggoDome Amsterdam 9 juli 2016
03. Drivin' N' Cryin' - Cultuurpodium De Boerderij Zoetermeer 30 oktober 2016
THE BEST ALBUMS 2016 according to Giel
01. Rolling Stones - Blue & Lonesome (2016)
02. Lukas Nelson & Promise Of The Real - Something Real (2016)
03. Nick Cave & The Bad Seeds - Skeleton Tree (2016)
Het zijn toch weer 'the good old boys' (sorry dames) die in mijn 2016-lijstjes heersen: The Boss, The Stones, The Loner, The Caveman en DNC. Een revelatie waren 'the young boys' van Neil Young's begeleidingsband Promise Of The Real. Die met het album 'Something Real' laten horen ook heel goed zonder Ome Nelis en Papa Willy uit de voeten te kunnen. De bonus gaat als speciale vermelding naar 5 mooie edities van het DijkRock Festival Maasdijk, waarvan in juli 2016 de laatste was met. o.a. The Wild Romance. Missie voltooid, bedankt voor de herrie. Geniet!
Lees alle THE BEST ALONE 2016 lijstjes hier.